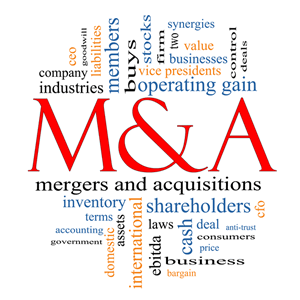 Largest M&A worldwide
Vodafone AirTouch Scoops Up Mannesmann (1999) ($172 Billion)
The largest ever acquisition is the 1999 takeover of Mannesmann by Vodafone at $202.8  billion  ($287 billion adjusted for inflation).
Back in 1999, old-fashioned, voice-only cellphones were booming, smartphones were just starting to go mainstream, and Vodafone (Vodafone Air Touch PLC)—Britain's largest wireless company— was eager to buy Germany's leading wireless carrier, Mannesmann (Mannesmann AG).
The ensuing union spawned the world's largest mobile-phone company.
Pfizer and Allergan agree to merge(2015) ($160 Billion)
Pfizer's $160 billion pending union with its rival, Allergan. The deal, which would put Allergan's fast-growing drug Botox and Pfizer's Viagra and Celebrex, under one roof, is also the largest so-called corporate "inversion" to date.
Inversions allow U.S. companies to incorporate in countries where tax rates are lower. By merging with Dublin-based Allergan, U.S.-based Pfizer will substantially lower its tax bills.
The White House critics call inversions unpatriotic and the U.S. Treasury Department recently passed rules aimed at limiting them. But the Allergan/Pfizer union was structured so that Allergan, the foreign company, is the buyer, meaning the deal might be able to sidestep the new anti-inversion rules.
Verizon Communications buys Verizon Wireless (2013) ($130 Billion)
Vodafone figures twice on the list of five biggest deals of all time, but this time around, the British telecom (Vodafone) was a seller, not a buyer.
Three years ago, U.S.-based telecom Verizon Communications decided to take a big bet on the future of cellphones and broadband services. Verizon spent $130 billion to buy the 45% stake it did not already own in Verizon Wireless, from its joint-venture partner Vodafone.
Javier Carro analyzes the trend of M&A
The acquisition of Mannesmann AG by Vodafone Air Touch PLC in 1999 was the largest M&A deal since January 1985, with transaction value amounting to $202.8 ($287 billion US Dollars adjusted for inflation).
But, Pfizer Inc. (purchaser) appears in these lists (1990s and 2000s) the most times, with four entries:
1999 – Pfizer  over Warner-Lambert − transaction value: $ 90 ($ 129 inflation adjusted – in billions 2016 USD).
2002 – Pfizer over Pharmacia Corporation − transaction value: $ 60 ($ 79 inflation adjusted – in billions 2016 USD).
2009 – Pfizer over Wyeth − transaction value: $ 68 ($ 76 inflation adjusted – in billions 2016 USD).
2015 – Pfizer over Allergan Plc − transaction value: $ 160 ($ 162 inflation adjusted – in billions 2016 USD).
Besides, Pfizer Inc. and Hospira, Inc. announced (February 5, 2015) that they have entered into a definitive merger agreement under which Pfizer would acquire Hospira (the world's leading provider of injectable drugs and infusion technologies and a global leader in biosimilars), for a total enterprise value of approximately $17 billion.
Javier Carro, expert in business analysis, comments on the scenario of mergers within the industry, by answering the following questions:
Q: Do you think that the trend of mergers will continue in 2017?
Javier Carro: I do believe that mergers and acquisitions (M&A) will be a constant scenario in the next year. A good example is the merger of Germany based Linde and US headquartered Praxair will create a giant worthy $65,000 million and turnover of $30,000 million in 2015.
Q: How easy do you see the integration of two companies from different countries?
Javier Carro: The terms of the agreement will give 50% of each company to the stakeholders. The new group will work under the Linde name and will be headquartered in some place in Europe rather than Germany. Steve Angel, will be the CEO that from Danbury (Connecticut), where based Praxair, will lead the company, and Wolfgang Reitzle from Linde, will be the President.
Q: What will be the challenges of the new CEO?
Javier Carro: His main goal will be to integrate so different cultures such as the German and the American are, and to achieve that planned synergies of USD 1,000 million in cost savings become a fact. ∎
http://www.yourcarinsurancequotes.net/javier-carro-analyzes-the-trend-of-ma/